If we think back to the very early days of the web (pre Google) some of us might remember how web directories were used to search and find useful information online. Infact, this is exactly how Yahoo started back in the early 90's. It wasn't a search engine, it was a directory.
It might seem somewhat primitive now, but back in the day, directories served a pivotal role, in that they –
helped regular web users find stuff on the web
helped site owners get found
Needless to say, a lot has changed since then, and whilst many directories still remain, the way in which we now use them has changed a lot.
Web directories and SEO
For many years a popular strategy amongst site owners was to simply submit their sites to as many web directories as possible. This was a quick and easy way of getting links.
The intention here was to improve search engine visibility and potentially boost rankings.
This method was popular for many reasons, with the main ones being –
It was low cost
It worked
It was easy to do
It didn't involve a great deal of work
What's really interesting to note is that many years ago, Google actually encouraged webmasters to do this. (see below)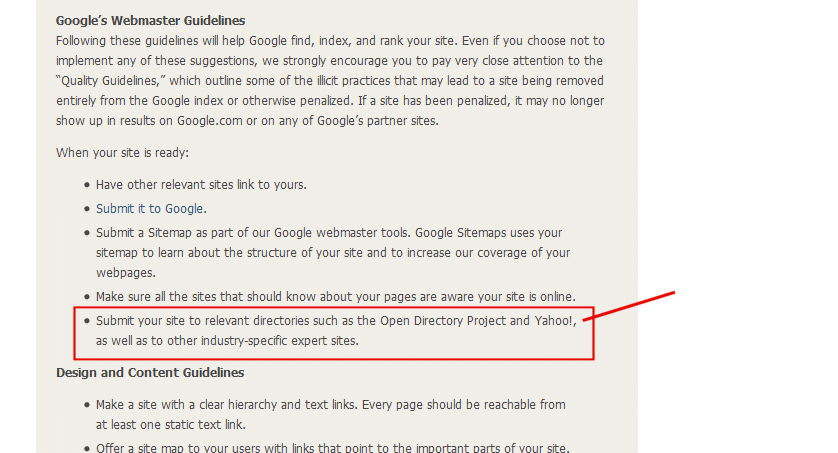 That snippet was taken from Google's own "Webmaster Guidelines". It should be noted that the section I have highlighted here has since been removed.
It goes without saying though, that whenever Google makes a recommendation (especially with something that might help boost rankings) that a lot of people lose their minds and go mental with it. When that happens, things always end up getting way out of hand. This is exactly what happened after years and years of continual misuse and abuse.
Site owners became obsessed with submitting their sites to as many directories as possible, regardless of quality or relevancy.
After some time, Google decided enough was enough and started devaluing links from directories, removing directories from their index, and in some cases where the submissions were so poor, sending site owners unnatural link warnings and applying penalties. (note – typically this was due to a completely unnatural link profile that was over optimised with excessive usage of a particular money term)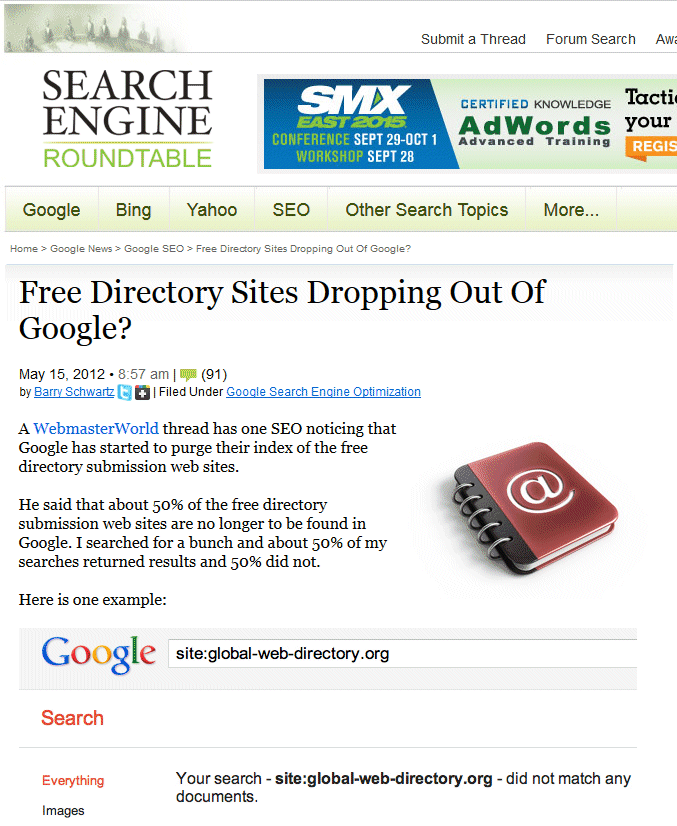 In the end, the whole thing became one big giant mess, leaving many scratching their heads wondering – what now?
Are listing in directories good or bad for SEO?
Not too long ago at a business networking event, I was asked, "John, should I list my website in directories? Are they any good for SEO, or should I avoid doing that?"
It seems obvious that many site owners are still unsure about listing their sites within directories. Perhaps it's because they're concerned they might get hit with a penalty, or perhaps it's because they don't see any real value in it, or perhaps it's just that they don't know where to start.
The answer to this question is both – submitting your site to directories can be both GOOD and BAD. It depends on which directories you submit to, how you go about submitting, your intent, and the approach you take.
So what should we do?
Let's take a closer look below.
Sending the right signals to Google
I often talk about how SEO has changed over the past few years, and how SEO means more than just having a great site, some links and a bit of content. It's about much much more than that. Google is smart enough to know that the web has changed, and as a result, they know that they have to start taking more factors into consideration as part of the way in which they assess and rank websites.
For instance, whilst there is no way of knowing with absolute certainty, it's likely that Google may be looking at social signals, citations, onpage elements, inbound metrics, user engagement levels, click through rates within the SERPS and more. It's believed that they are indeed looking at many of these elements, if not all.
The fact of the matter is this – Google are looking for external signals in an effort to determine, trust, quality and site credibility – because they're the types of sites they want performing well in the search results. Again, it all comes back to user experience.
But what is considered "quality"?
Quality can be interpreted in many different ways, but I'd like to focus on two elements that I believe really come into play when it comes to directories.
They are, trust and credibility.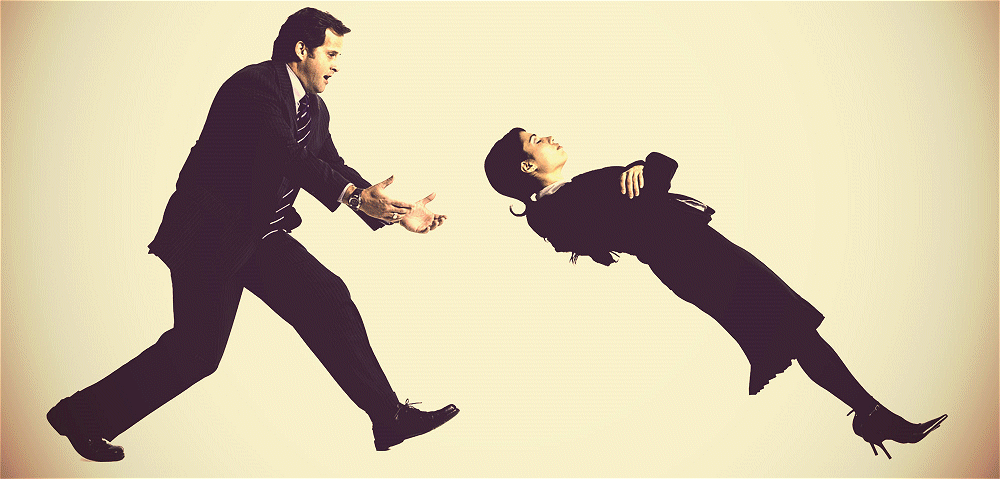 If you think about it, any site that is listed within a number of reputable directories is more than likely going to be a trusted source. Especially when that listing carries –
A phone number
An email address (or other means of direct contact)
An ABN or registered business number
A postal address (physical location)
Hours of operation
Feedback and or customer reviews
Of course it's possible to submit a spammy site to a lot of directories, but I'm talking about directories that are heavily moderated and submissions go through a strict approval process. For example, sites like Yellow Pages, True Local, Hot Frog, Start Local, White Pages and so on.
Directories like this play an important role, in that they send the right signals to Google about your website…. "Hey, we are a legitimate business with contacts and a physical address".
This is how you need to think about using directories – NOT simply for links.
Which directories should I list in?
Okay, so I've mentioned a few directories already and I'll cover more in a moment, but firstly, here are some key points to take into consideration before you get started.
List in directories that are heavily moderated
Sites that scream "List here for FREE, anyone and everyone accepted!" are the types of directories you'll want to avoid. It's ALWAYS best to submit to directories that have someone actually sitting at the other end checking each listing to ensure that it's legitimate. You'll want to list your site within directories that must pass through an approval process. Most sites like this usually take a few days for your listing to be approved. Some actually call or send a text, as part of their approval process.
List in directories that are a paid service
There are a number of paid services, such as business.com.au who charge $90 a year for a listing. Sites like this are always worth submitting to as they heavily moderate everything that comes in. It's also less likely that anyone building a spammy site will spend the money to list in a directory that requires payment. I'll cover some more paid options below.
List in directories that are well known
It's always best to list your site within well known directories, such as Yellow Pages, and avoid unknown brands or sites that look questionable.
List in "niche" specific directories
Whilst there are plenty of main stream commercial type directories available to list in, with a little bit of searching, you can often find highly targeted "niche" specific directories to submit to also. Submitting to directories like this is extremely valuable, because they're HIGHLY relevant. For example, I just performed a quick search in Google using "metal fabricator" + directory and found this listing here. For any company operating in the metal fabrication industry, this would be absolutely perfect.
Don't forget, you can use Google search query operators to find industry specific directories (see below)
Keyword +"add your business"/"list your business"
Keyword + directory
Keyword + directory + add/submit/suggest/post
Keyword + intitle:"directory"
Keyword+ inurl:"directory"
Keyword + Listings
Directories that I recommend
Here are my recommendations for free directories –
Here are my recommendations for paid directories –
Best practices before you start
One of the most common problems I find when working with business owners when it comes to directories, is that they'll have –
numerous listings all over the place
no idea of usernames and passwords
old listings with incorrect information
The best way to stay on top of everything is to use ONE email account for all of your directory submissions. I usually encourage business owners to create a generic account for stuff like this, as many directories will send you unwanted promotions and crap – and you won't want that cluttering up your primary email accounts inbox. You might want to setup an account called "admin@yourdomain.com.au" or something of that nature.
Once, you've done that, grab this spreadsheet here, which will allow you to keep track of all your listings, usernames and passwords. Trust me, if ever your details change, you'll want to be able to refer back to this quickly so you can update your listings.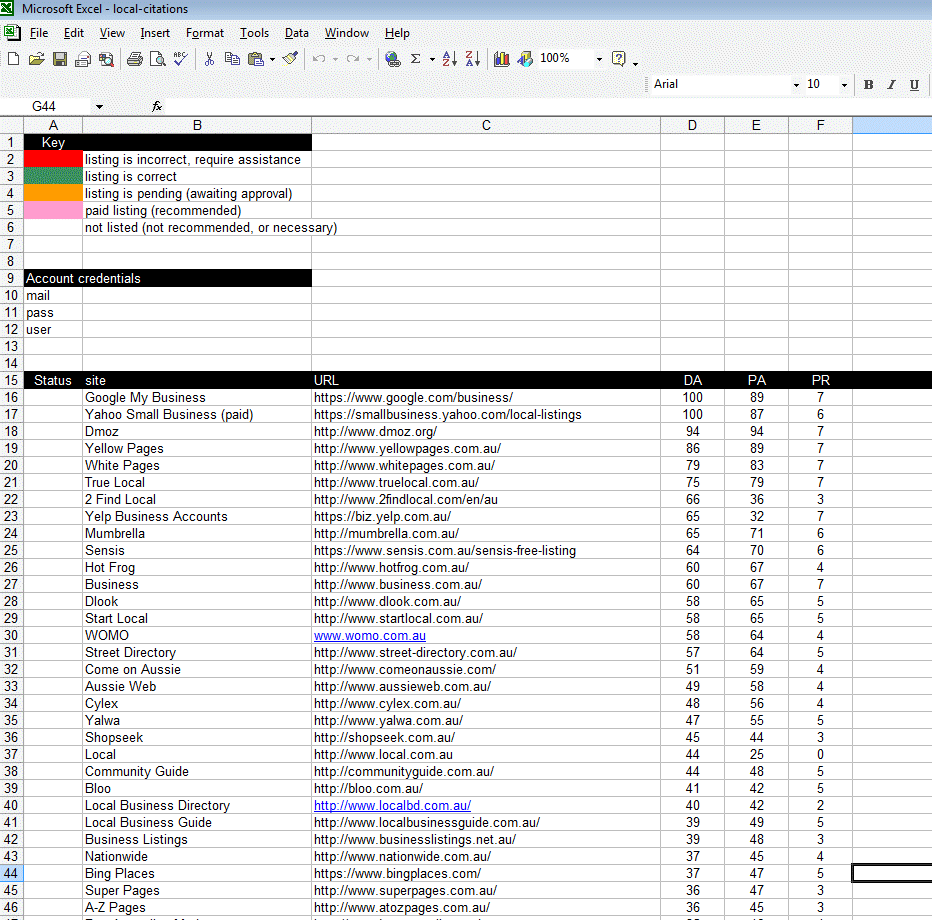 Having said that, you'll also want to prepare your submissions ahead in advance. Most directories ask for the same information over again, so it's always best to have this stuff prepared.
I would have the following information at the ready –
Title of your business
Account information for the submission process (email account etc)
Contact email address
Business phone number
ABN or business registration number
Hours of operation
Social media links
Your business description
Business logo
A number of business related images
Most sites ask for a short description as well as a long one, so be sure to have both ready. You also might want to make up a few variations of your business description. Don't just submit the same piece of text over and over to each directory. You'll want to change it up for each one and make sure each listing description is unique.
Best practices when submitting your website
Link using your brand name or web address
Always link using your business or brand name, or if you can't do that, just link using your actual web address (URL). Avoid the temptation to link using keywords. You shouldn't be linking using keywords as part of this process, it's not necessary.
Use unique business descriptions and summaries
As mentioned above, its always best when submitting your site to directories, to use unique descriptions. Don't just copy and paste the same business description to each directory. You want each submission to be unique.
Avoid using software or paid services to submit your site
A friend said to me recently, "I just use XYZ services to do all my directory listings, it's easy".
This might seem like an easy way out, but it's rarely worth it. From what I've seen, a lot of organisations offering directory submissions like this, will end up submitting your site to all sorts of junk sites.
You'll want to know that your submissions are 100% spot on, submitted only to high quality relevant directories, contain unique descriptions, your contact details are correct, and that you're easily able to login later if you need to, to update them. Don't try to cut corners using services or automated software. Do it right.
Quality over quantity
You might be thinking, "Well if I submit my site to more directories, this should give a bigger boost in terms of SEO, yes?"
Not entirely true.
Think quality over quantity. You're always much better off submitting your site to fewer high quality, relevant directories, than you are submitting your site to a lot of crappy ones.
Which directories should I avoid?
Whilst I can't list every single crappy directory here in this article, I can give you some quick tips as to which directories you might want to avoid.
Here are just a few –
Avoid listing in too many "free directories"
Avoid listing in directories that require a reciprocal link
Avoid listing in directories where your listing goes live immediately (no moderation process)
Avoid listing in directories where they are a LOT of low quality sites listed
Avoid listing in non English speaking directories
Avoid listing in directories stuffed full of ads and other nonsense
Will listing in directories give me an SEO boost?
Okay, the final, and probably the most important question of all – will listing in directories give me an SEO boost?
The truth of the matter is, no – probably not.
Infact, the difference will be most likely unnoticeable.
BUT, is it worth doing? Absolutely.
Send the right signals to Google and think long term.
Submitting your site to business directories is just one spoke in the ever expanding wheel of SEO.
Conclusion
What really matters when it comes to listing in directories, is INTENT.
What's your WHY?
If you're listing in directories simply to try and get better rankings, you're doing it wrong
If you're listing in directories in an effort to create backlinks, you're doing it wrong
If you're listing in directories, purely for SEO purposes, you're doing it wrong
You should ONLY be listing in directories, so that your customers can find you.
Yes listing in directories may help your SEO efforts, but from my experience, the impact of listing in directories – even paid ones, is barely noticeable.
Sure, list in the biggest and most reputable ones (and of course any that are highly relevant) then get to creating a great site, and publishing kick ass content that people will love, share and engage with.
If you have something to say, I want to hear it. Perhaps you'd like to add something? Perhaps there's a directory that I've missed? If so, post up your thoughts or comments below, and let me know what you think.